History of the Lafitte 44 Sailboat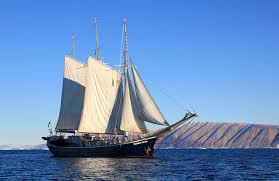 The 1970s was an explosive time for cruising boats in America. Many boats were built in Taiwan boatyards where craftsmanship was excellent and building was inexpensive due to exchange rates. During this time, some of the best designs in Taiwan built cruising boats were developed and shipped to the U.S.
The Lafitte 44, one of the largest vessels constructed during this era, is a beautiful example of Taiwan built cruising boats. It was designed in America by famous boat builder Bob Perry and built in Taiwan at Chung Hwa Boatworks. The Lafitte 44 was one of the first Taiwanese-built yachts to have complete American construction supervision that moved Taiwan boat building from the "Dragonboat era" into the 20th century.
Completed in 1976, the Lafitte 44 was among several 44-foot cruising boats like the Nordic 44, the Norseman 447, and the Cheoy Lee 44 that hit the American market in 1978. The boats were built in Taiwan without fittings to avoid export fees on hardware. At the time, Taiwan didn't have enterprise zones to allow duty-free shipping, so fittings were installed in California. Over the next few years, demands for the Lafitte cruising boat grew in the U.S. In 1981, Lafitte Yachts was born.
The Lafitte 44 bow with a beautiful entry sits fairly high above the water. Below the waterline, there's a deep and long fin keel that measures slightly over 6-feet. The boat has a flush-deck with a short and low cabin. It boast a 22-foot foredeck with an unobstructed view and 2-foot wide side decks with well-placed hand rails. The interior includes teak walls, countertops and trim. Ventilated lockers and drawers provide more than ample stowage space for extended sailing voyages, and the wet locker is warmed by the engine. The large galley is one of the most prominent features inside the boat. The Lafitte 44 is loaded with modern systems and conveniences like its air conditioning system, generator, heat exchanger and water maker.
With a sophisticated ambiance that's rare in a 44-foot cruising boat, the Lafitte 44 offers a unique sailing adventure. The thick hull with its foam core and use of heavy teak creates a beautiful boat that's quiet and comfortable on the water. Although production of the Lafitte 44 stopped in 1987 with a total of 56 boats, 53 boats still remain in existence. Refurbishment and parts information available through Attwood replacement parts .